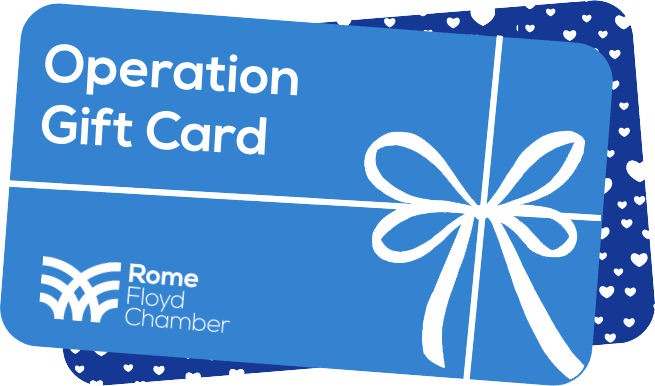 Together we can make an impact in our community! 
$10,000 Gift Card Match Program
This event begins Wednesday, February 1, 2023 at 2:00 p.m. EST!
Come back to this page on Wednesday, February 1, 2023 at 2:00 p.m. EST!
This event sells out quickly! Be prepared by reading the step by step instructions and tips below!
Please review the step by step instructions on the next tab before purchasing.
Operation Gift Card: Gift Card Match
The $50 matching opens to the public at 2:00 p.m. on Wednesday, February 1, 2023.
Gift cards to participating Chamber member businesses will be available in $50 increments.
Participants will receive (1) matching $50 gift card with any purchase (this will be for the business you chose to purchase a gift card from).
Limit (1) $50 match per person / mailing address / IP address.
Only gift cards purchased online through the Rome Floyd Chamber will be matched. No orders will be taken by phone.
All sales final. No refunds or exchanges.
Matching sales end when the $10,000 goal has been met or at 4 PM on Wednesday, February 1, 2023.
Gift cards will be made available for pick up at each respective business after Wednesday, February 8, 2023 (unless other arrangements are made with the business).
Participating businesses are responsible for gift card fulfillment. Purchased gift cards are not redeemable for cash. Participating business gift card terms and conditions apply. 
Step by Step Instructions
Refresh the page-  if you are on the website before 2:00 p.m. and you do not see a link to purchase gift cards at 2:00 p.m. refresh the page. 
Click the link to "Purchase Gift Cards."
Enter the name and contact information of the gift card recipient by clicking "Add Attendee" or by editing the prepopulated fields.
Use the +/- button to the right of each gift card listing to add gift cards to your purchase.
Only select the amount which you are purchasing.  Matching or bonus dollars will be added automatically.
Click "Next" to review your order.
Click "Checkout" to enter billing information and make payment.
Check the box to agree to the terms and conditions.
Click "Checkout" to process your order.
This event is online only! Gift Cards cannot be purchased in person or over the phone.
#1. Receive the personal touch
Because the employees are likely personally invested in the products or services they are selling, they are more likely to go the extra mile for their customers when it comes to providing product/service descriptions, uses, backstories, and customer service.
---
#2. Creates more jobs
Small local businesses are the largest employers nationally. In fact, since the 1970s, more than 65% of new jobs have come from the rise in small business.
Not only do small businesses employ more people directly per dollar of revenue, they're also the customers of local businesses themselves.
---
#3. Puts taxes to good use
In addition to generating more tax revenue per sales dollar, taxes paid by small, local businesses are widely used to support schools, parks, roads, and other local programs that benefit your friends, family, and community.
---
#4. Keep Your Community Unique
Local businesses give your community its flavor and is a big player in your community identity.
---
#5. You conserve your tax dollars
Shopping in a local business district means less infrastructure, less maintenance, and more money available to beautify your community. Also, spending locally instead of online ensures that your sales taxes are reinvested where they belong— in your community!
Check back to see updates! 
If you are interested in participating or want to know more about the program, please get in touch with Amber West at 706-291-7663 or awest@romega.com 
We are accepting participants until Friday, January 27th. 
2 Chics And A Deal
Aventine
Best Healthcare and Wellness
Big Dan's Car Wash
Blooming Oak Photography
Blossom Hill BBQ & Burgers
Bluem
Carmalita's Catering Company LLC 
Cheeky Baby
Cosmic Dog Outpost
Creating Magic Vacations
Dairy Queen - Rome/Armuchee
Eggs Up Grill
Farrell's Frame And Design
Ford, Gittings and Kane Jewelers
Giggity's Sports Bar & Grill
Gmc value mart
Harvest Moon Cafe
Heather's Outdoor Power
HoneyBaked Ham
Honeymoon Bakery
John henrys Grill
La Scala Mediterranean Bistro
Las Palmas Mexican Restaurant 
Lavender Mountain Hardware LLC
Lumina Coffee Company
Melindas Southern Coastal Kitchen
Old Havana Cigar
Provino's Italian restaurant
Red Lobster
Rock N Roll Sushi
Rome Coins
Scooter's Coffee
Smoothie King
Speakcheesy
Stateline tavern & grill 
Stonehaven Metaphysical
sweetFrog premium frozen yogurt
Swift & Finch Coffee
The Big Mattress Outlet
The Canoe House
The Sharp Sickle
Traveling Gypsies and Kava Den 
Trendy Teachers
Unique Interiors of Rome
Whistle Britches
Willow Creek Landscape Supply
Updated 1.23.23 11:28 am
Use a computer, not a mobile device.
Read the step-by-step instructions and watch the video.
Decide ahead of time what gift cards you want to buy.
Remember we only match one $50 gift card per person!
REFRESH! REFRESH!REFRESH! Refresh your screen at 2:00 p.m. on February 1st.
We highly recommend you be at your computer before 2:00 p.m. (this event sold out within minutes in 2020)
If you have questions, call 706-291-7663 before February 1st.
You can only purchase gift cards with a credit or debit card.
Find a friend to split the cost with you!