We are now accepting nominations for Leadership Rome!
The Rome Floyd Chamber is excited to announce it's time to apply for the new 2022-2023 Class of Leadership Rome, Class 40!
We will begin accepting nominations starting March 31st – to May 20th, 2022.
We will send the application to whomever you nominate once we receive the name of the nominee.
Leadership Rome (LR) is a dynamic, intensive, interactive, ten-month experience designed to promote and enhance community leadership through an in-depth introduction to social, economic, business, and political issues in Rome and Floyd County. Leadership Rome provides in-class instruction, interaction with community leaders, and a rewarding leadership experience.
The ideal candidate is a professional who demonstrates influence within the work environment, community, and/or volunteer activities as well as professionals who may be underrepresented with the capacity of developing as a leader.
The candidate must have the time and availability to participate in this ten-month program. The applicant must also be especially detailed in the application process as Leadership Rome is a competitive leadership program with over one hundred qualified hopefuls. Alumni role models and volunteers assist and support this extraordinary leadership journey, that will assist these developing Leaders in their future endeavors.
Please let me know if you have any questions.
Eric Collins
Director of Programs, Rome Floyd Chamber
Phone: 706-291-7663
Email: ecollins@romega.com
High School Leadership Rome 
High School Leadership Rome (Emerge) is a program offered through the Rome Floyd Chamber for rising High School Sophomores and Juniors. High School Leadership Rome is a skills-building program that aims to develop emerging community leaders while providing an educational experience emphasizing social and community awareness.
A community cannot grow without good and progressive leadership. Leaders from all segments of the community must work together to develop plans for their future.
Recognizing the need for developing leaders for the community, the Rome Floyd Chamber established the Leadership Rome (LR) and High School Leadership Rome (HSLR) Programs. The purpose of these programs is to understand what a leader is, create an awareness of issues facing our community, and discuss how leaders should deal with these issues.
Each class is given the opportunity to get to know each other and at the same time explore different areas/sectors of Rome and Floyd County. Each month's session is conducted by outstanding authorities on the topic of the day.
The classes chosen are diverse in all aspects of life. Through the interaction of this diverse group, participants will learn about the ideas and interests of those from differing backgrounds. The deeper understanding of people throughout the community, and the knowledge that participants will gain about the problems facing the Greater Rome Area will equip graduates of LR and HSLR to take more active leadership roles in the affairs of Rome and Floyd County.
Lifetime friendships will be formed among members of each class, and the experience is one that will not be soon forgotten!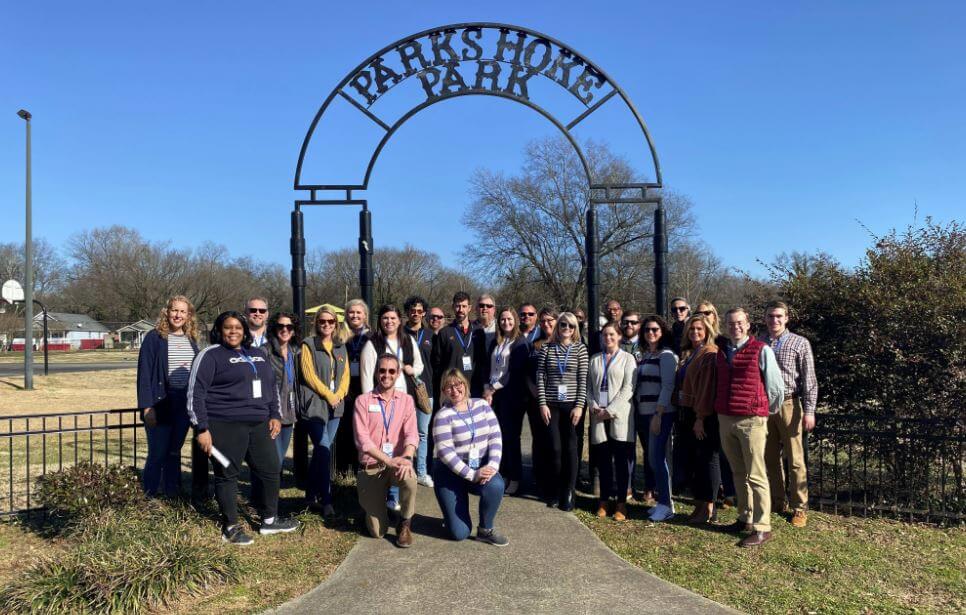 Ready to find out more about our Leadership Programs?
Reach out to a Rome Floyd Chamber Staff Member to learn more about LR & HSLR.