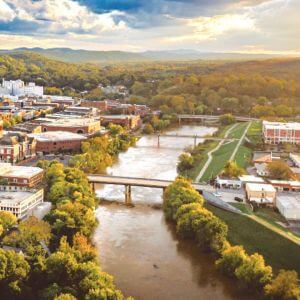 The Blueways and Greenways in Rome, Georgia, help to make our community more vibrant. There are miles of beautiful blueways to paddle, float, fish, and more. The abundant greenways allow for walking, hiking and cycling.
Start your outdoor journey at one of our picturesque blueways or greenways.
Etowah River
The Etowah River is a 163-mile long river water trail.
Coosa River
The Coosa River is a tributary of the Alabama River in the U.S. states of Alabama and Georgia. The river is about 280-miles long. The Coosa River begins at the Confluence of the Oostanaula and Etowah rivers in Rome, Georgia, and ends just northeast of the Alabama state capital, Montgomery.
Oostanaula River
The Oostanuala River originates in Gordon County at the confluence of the Conasauga River and Coosawattee River. The Oostanaula River then flows southwestward for approximately 45 miles, joining with the Etowah River to form the Coosa River in Floyd County.
Armuchee Creek
Armuchee Creek is a stream in the U.S. state of Georgia. It is a tributary to the Oostanaula River.
Armuchee High School Walking Trail
4203 Martha Berry Highway
Arrowhead Wildlife Interpretive Trail
2559 Floyd Springs Road
Berry College Trails
2277 Martha Berry Highway
Blacks Bluff Interpretive Trail
Blacks Bluff Road
Etowah Park Fitness Trail
1325 Kingston Road
Garden Lakes Fitness Trail
901 Garden Lakes Blvd.
GE Trails at Garrard Park
1935 Redmond Circle
Heritage Trail System
Entrances throughout Downtown Rome
Jackson Hill
400 Civic Center Dr
Marshall Forest Interpretive Trail System
Horseleg Creek Road
Pinhoti Trail
GA Highway 100
Simms Mountain
Huffaker Road
Wolfe Park Fitness Trail
106 Park Avenue